Warning
: "continue" targeting switch is equivalent to "break". Did you mean to use "continue 2"? in
/home/robbec16/myveryownhouse.com/templates/ownhouse_2018/functions.php
on line
191
Decorating Ideas
ARTS & CRAFTS
These were decorated by the very talented Rose L.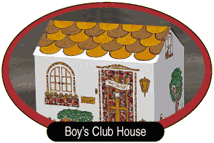 Water-based paints provide color for the shinglesa nd trees while the door and window boxes are covered with decals of miniature "footballs".
Silk flowers and leaves cut from foam bring the plants to life. Her innovative use of sandpaper for tree bark and synthetic fur on the cat and dog make them very realistic to touch. Finally the brightly colored felt shingles truely bring this house to life!
This colorful combination of water based paints and balloons (made of construction paper and felt) quickly became the main attraction for the party guests.
A birthday party none of them will ever forget...
Imagination!
Let your imagination run wild!  Gather a few simple items from your local party store and you can transform any playhouse into a Theme item for a Party or special occasion!  Here are a few examples:
Decorate Inside as well!