Deprecated
: Required parameter $htmlIn follows optional parameter $selected in
/home/robbec16/myveryownhouse.com/plugins/vmshipment/fedex_ship/fedex_ship.php
on line
543
Deprecated
: Required parameter $htmlIn follows optional parameter $selected in
/home/robbec16/myveryownhouse.com/plugins/vmshipment/fedex_ship/fedex_ship.php
on line
555
Deprecated
: Required parameter $shipCounter follows optional parameter $cart_prices in
/home/robbec16/myveryownhouse.com/plugins/vmshipment/fedex_ship/fedex_ship.php
on line
682
Deprecated
: Required parameter $htmlIn follows optional parameter $selected in
/home/robbec16/myveryownhouse.com/plugins/vmshipment/usps_ship/usps_ship.php
on line
498
Deprecated
: Required parameter $htmlIn follows optional parameter $selected in
/home/robbec16/myveryownhouse.com/plugins/vmshipment/usps_ship/usps_ship.php
on line
510
Deprecated
: Required parameter $shipCounter follows optional parameter $cart_prices in
/home/robbec16/myveryownhouse.com/plugins/vmshipment/usps_ship/usps_ship.php
on line
659
Pirate Ship
Ahoy mates! This Coloring Pirate Ship is where young pirates create the rules for the sea and steer their very own ship as the follow a treasure map in search of sunken treasure. Brave crewmates can dodge danger and have sword fights during their swashbuckling adventure. Constructed of sturdy cardboard.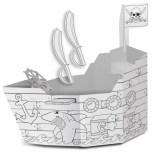 Description
Buying Info
Pirate Ship
Aarr! Aspiring buccaneers will board this pirate-themed boat to sail through uncharted waters on a search for hidden treasure. Drop anchor and take part in a treasure hunt on the seven seas. Battle the enemy in a sword fight and make 'em walk the plank, matey! Decorate the pirate ship with markers, paints or crayons, construction paper, gems and jewels. Once inside, children can embark on their very own search for buried treasure at sea as they steer the ship and follow treasure maps. Shiver me timbers! And, because we care about your child's real world as much as their imaginary world, our products are made from bio-degradable, eco-friendly materials that are formaldehyde-free and completely recyclable. MyVeryOwnHouse® - Pirate Ship, Model MP4428R.  US Patent No. 7,552,563
8 Pack Jumbo Color Washable Markers included!
WARNING: choking hazard - small parts. Not for children under 3 yrs.
Units in box: 1
Reviews
There are yet no reviews for this product.